Saturday, January 31, 2009 3:53 PM
♥彡Success Story of Amazon.com and its causes.
Some Fun Facts about Amazon.com



If Amazon's

66 million

active customers all lived in the same country, it would be the world's

19th

most populous country, larger than every European country except Germany. And if every US household spent $130 at Amazon.com this year, the total amount they'd spend would still be

less than

Amazon's 2007 revenues of almost

$14 billion

. It actually started as an online bookstore named "

Cadabra.com

", a name quickly abandoned because it sounds similar to "

cadaver

" (which means dead body/corpse). Later, it was renamed as "

Amazon

" after the world's biggest river.
History and Success causes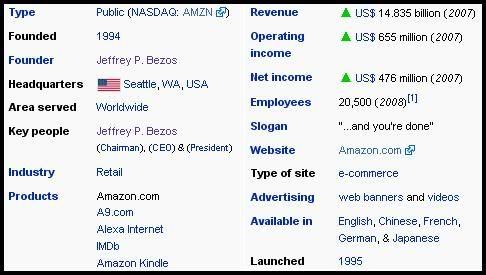 Amazon.com, Inc. is an American electronic commerce (e-commerce) company located in Seattle, Washington. It is America's largest online retailer, with nearly three times the internet sales revenue of runner up Staples, Inc. Founded in 1995 by Jeff Bezos as an online bookstore, Amazon has since greatly expanded its business. Amazon has since established separate websites in Canada, the United Kingdom, Germany, France, China, and Japan. Today, Amazon's stated mission is to be a place where "people can come to find and discover anything they might want to buy online."

Its key pillars of lowering price, offering convenience, expanding selection, and increasing availability are interrelated in what the company calls a virtuous cycle, and together make up the foundation of the fabulous growth that has taken Amazon from a bookstore started in a garage to a $14Billion retail machine. Amazon's direct-to-consumer online model allows it to keep its inventory in a small number of strategically located large warehouses, letting the company offer a vast selection of goods (removing the risk of relying on any particular product line) and without the capital investment and inventory risk that traditional shop retailers face.

Amazon has used the internet to create a truly global business platform, one which is poised for incredible growth in the coming decade. Sales have increase tremendously in the last year at the world's largest E-commerce company, growing 39% from a combination of low prices, shipping promotions, and roll outs of new product categories. Revenues increased thanks to product diversification and an international presence: $3.9 billion in 2002, $5.3 billion in 2003, $6.9 billion in 2004, $8.5 billion in 2005, and $10.7 billion in 2006.

While most people naturally think of Amazon as the internet superstore that sells products in over forty categories, from books to electronics to groceries to jewelry to auto parts, the company has gradually expanded beyond that simple business platform; today Amazon is simultaneously an E-commerce and internet technology platform, a fulfillment and logistics platform, a search technology, an internet advertising platform, and even an internet start up incubator.

Due to sophisticated inventory forecasting, fast inventory turns, and overall operational efficiency, Amazon has managed to build a retail business with a negative operating cashflow cycle, which means Amazon gets paid for products by customers before they have to pay their suppliers for the goods. Working capital has effectively become a source of investment cash for the company.


http://www.amazon.com/